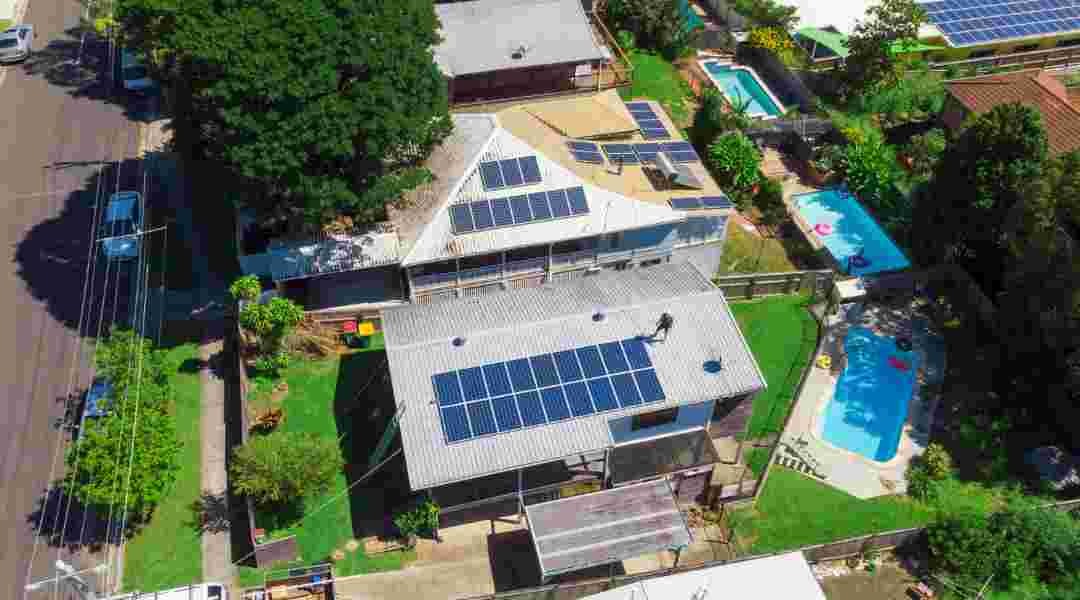 The Best Places in The US to Have Solar Panels
Embracing solar power offers reductions in your electricity expenses and aligns with environmentally conscious decisions that contribute positively to the planet.
Curious about the optimal locations across America to harness this remarkable renewable energy source? Allow us to lead the way as we explore some of the prime regions for benefiting from solar power and maximizing the potential of these eco-friendly innovations!
Benefits of Solar in the US
Let's delve into why taking that step benefits you as a citizen and homeowner. Solar energy offers various advantages, such as lower electricity bills, reduction in CO2 emissions, protection against rising utility costs, increased property value, and additional potential profits due to state-level incentives.
Now isn't that a bundle worth exploring? Installing your own photovoltaic system at your dwelling place or business premises enables the generation of free-flowing power right on site! Less reliance on external utilities means more dollars saved off monthly expenditures.
The environmental advantage also speaks volumes; generating renewable green energy helps reduce environmental damage by decreasing greenhouse gas footprints across the board.
Factors Influencing Solar Panel Efficiency
As you delve deeper into solar energy, understanding factors that affect panel efficiency becomes crucial. First off, your geographical location plays a significant role. Direct sunlight exposure can enhance performance remarkably.
If your panels face south in northern latitudes like America's, they absorb maximum sun rays throughout the day. Hence, angles matter too! Solar panels inclined at an angle equal to latitude often work best, something worth considering during installation.
Temperature also influences functionality. Higher temperatures may decrease productivity due to reduced voltage output efficiency, as indicated by scientific studies conducted on photovoltaic materials used in solar cells. Additionally, atmospheric conditions come into play. Clear skies ensure uninterrupted light absorption, while overcast weather could diminish it considerably.
Finally, yet importantly, is maintenance. Keeping those panels clean from dust or snow ensures optimum ability for absorbing sunlight and subsequent conversion into electrical power, which is vital for homes and businesses.
Best Cities for Solar Panels
Ease into the culture of Florida, rightfully called the Sunshine State. This state brims with solar energy potential thanks to its abundant sunshine. Not only does it offer a great return on your investment in solar panels, but current policies for metering also work in favor of homeowners.
Incidentally, unusually sunny Colorado is becoming a surprising contender for an ideal state for solar power generation. Despite being synonymous with snow-capped mountains and cooler climates, the sun actually shines quite frequently here! Nevada may seem like an expected choice due to its desert landscape which receives ample sunlight throughout most months.
Yet even as utilities challenge certain aspects of Nevada's embrace of renewable energies such as solar power, rest assured that this fight is far from over! For those residing outside these vibrant states listed above who are curious if their location could still be suitable for installing efficient photovoltaic systems.
Other Promising Locations
Besides the best-fit spots, several under-the-radar areas show promise for solar energy generation. Let's delve into these potential gold mines. Think about places not too far from substations to minimize extra infrastructure costs.
Moreover, sites used currently for agriculture or grazing can house photovoltaic panels, providing a dual-purpose solution! Another consideration is the effect of heat on panel efficiency. Contrary to popular belief, silicon-based PV cells don't thrive in extreme temperatures.
Once the thermometer climbs over 78°F (25°C), output decreases significantly, meaning hot deserts aren't always ideal. But there's hope yet; technological advancements may soon overcome this challenge. Then you have regulatory friendliness and access to backing funds, which could play major roles in finding promising locations.
After all, having abundant sun doesn't necessarily translate into viable power production zones without other crucial factors lining up correctly. Consequently, scouting beyond just sunshine levels proves vital when pinpointing new candidates with substantial potential across America's vast landscapes!
Exploring Solar Possibilities
Not to be overlooked, sunshine-flooded Arizona makes an ideal place for solar panels. With Phoenix boasting a whopping 299 sunny days annually, you're in a prime position to harness renewable energy. Next is Utah, characterized by its arid climate and vast deserts; this state offers excellent sun exposure, allowing optimal functioning of your solar setup.
Don't forget about Texas, either! Blessed with copious amounts of sunlight all year round, this gives Texans plenty of opportunity to generate clean electricity from their rooftops. Lastly, don't underestimate New Mexico or Nevada; both states offer extensive periods of clear sky throughout the year, providing more than enough sunlight for effective power generation via solar panels.
The aforementioned states typically provide financial incentives such as discounts or rebates encouraging residents to adopt renewable energy sources like solar power solutions! Remember, every home has unique needs for powering up with photovoltaic cells.
Factors include local weather conditions and time spent at home, influencing how many panels you need. Be sure to do thorough research before opting one way or another!
Incentives and Tax Credits Available
Some states offer attractive tax breaks for solar installation to inspire people toward renewable energy solutions. Tax credits, not cash or checks, reduce the amount due to state and federal authorities. You qualify when you own a residential solar system in your home!
This credit reduces next year's taxes. Greg Fasullo, CEO of Elevation, an Arizona-based company specializing in residential energy technology and solar solutions, explains this simply. This rebate is just one of many offered across various US states, reducing your overall tax bill tremendously.
The exemption on sales taxes from purchasing a solar panel system also exists in some locations! Further benefits are apparent, as property value increases post-solar implementation don't attract additional house-related levies elsewhere.
Here's the summary: Some areas outshine others for solar panels in America. They're sunny, have great incentives, or both! Examples include California, Arizona, and New Jersey, with their plentiful hours of sunshine.