EXCLUSIVE SOLAR LEADS IS WHAT WE OFFER
At Solar Exclusive, we meet the needs of our clients first. In other words, our main goal is to deliver exclusive leads and pre-set appointments to energy consultants, just like you!
Today, solar leads and appointments are the backbone of any solar business looking to grow and scale their company. We understand this, hence, we came up with improved techniques to help you energize your pipeline and get more solar customers to generate more revenue. We can agree that social media channels are vital when it comes to getting more customers, but running a new business and performing day-to-day operations are stressful enough. With all of the competition out there, every decision you make is important. This means you want to invest in something more precise and proven. That is what we offer at Solar Exclusive.
"One Year Later and Still Closing 20 Deal Per Month Consistently!"
Solar Exclusive is a marketing company that generates unique, quality leads for solar businesses across the nation. We strive to increase the customer base and reach of solar companies by providing exclusive leads that result in long term customers. The most important objective is making sure all our clients are satisfied with the pre-set appointments and targeted leads we deliver.
For energy consultants and solar businesses to grow and expand their reach, it's become a necessity to build a solid pipeline and generate leads consistently. We accomplish this by sending our clients pre-set appointments and a constant stream of exclusive solar leads.
How do we match you with qualified leads for your solar business?
Outdated models no longer work. Over the years, we have developed methods in order to provide you leads that are targeted and tailored to your goals and business. This takes years of sales and marketing experience and pilot campaigns for R&D and testing initiatives. We use advanced analytics and leverage various social platforms to drive qualified leads for your solar businesses – and on a consistent basis!
Our proven lead generation process and strategies are tested with time so we can provide you valuable leads who are interested in your solar services and products at this point in time. We want you to close more leads in less time and with less effort.
Social Media for Effective Solar Leads Generation
Social media is perhaps the most important channel for generating solar leads. It is more efficient than going door-to-door or using other traditional methods. Social media is the quickest way to generate a pipe-line, but it can be very difficult with all the competition. This is why you want to hire a professional team with experience so you can focus on your business while we energize your brand. Commercial organizations have focused their advertising and marketing efforts online and you should do the same!
Trying to handle your day-to-day operations with your marketing efforts simultaneously can be very difficult. At Solar Exclusive, we will tackle all of your marketing initiatives so you can reduce your work-load and be laser focused on what matters. With us, you will become a more efficient business owner because you will have more energy to allocate to your work and clients. All of your headaches, concerns and dry spells will be a thing of the past.
Our solar lead campaigns are actively managed for performance and we keep it simple for you. We select prospective customers and filter out the time-wasters in order to match you with quality customers who are ready to buy now. Our campaigns are built for specifically for solar business owners like yours so you do not spend thousands of dollars on a program that only provides unfounded promises and ineffective DIY lead generation tips. By partnering with us, you guarantee endless leads for your business and proper direction. All we want you to do is focus on your business, your clients, and your perfect closing pitch.
Our Specialties
Over the years, Solar Exclusive evolved into a solar lead powerhouse. We have several filtering methods that are tailored to each client to ensure we deliver high quality leads to each and every one of our solar businesses. There are many lead generations companies that do not optimize, maintain consistency or actively manage and adjust their campaigns. This has a large effect on price points and quality. Moreover, you have new lead generation companies that enter the solar space who have not collected enough data, nor have the years of experience that is needed to create successful marketing funnels. Generating successful solar marketing funnels requires well allocated resources.
Research & Development
Delivering quality leads that are unique and specific to your needs involves ongoing research and campaign development. We are able to offer feasible plans and qualified solar lead solutions because of our years of experience and accumulation of data. The more data we have the more targeted we become. This allows us to keep our cost-per-click lower to allocate in other areas such as our filtering process.
Filtering and Allocation
This process involves taking a deeper look into various data points of the leads and allocating them to our clients who will best serve their specific needs. One filtering and allocation is complete, then we can connect you with the leads! We continue to expand our knowledge, insights and KPI's to remain an industry leader.
Consistency & Reliability
Solar Exclusive takes pride in maintaining consistency and reliability. It is important for goal-based business owners to scale. The only way a company can scale is with consistent leads in order to invest back into their company for expansion. This is not possible without a reliable and consistent partner.  We won't just send you pre-set appointments and exclusive leads, then call it a day.
If requested, we use our experience to help our clients with direction, projections and forecasting. We have years of solar data and trends to help you grow your solar business.
When it comes to delivering homeowners' solar leads solutions, we're the experts. We pair your company with people who are actually looking for your specific products and services, not those looking for solar info in general. Our prospects have been adequately vetted to make sure your solar lead experience is above satisfactory and stress-free.
Automated Services
Our solar lead services are designed to provide results for all of our clients, even you! It's our job to make your experience with us is convenient and hands-off. After we have established a funnel for you and we've completed our filtration and matching process, we will then conclude with quality and assurances.
All of our newly acquired leads will be checked and rechecked to confirm they a "best match" for you and meet your requirements. Once we're finished you will be delivered pre-set appointments who have an understanding of the meeting. They will be ready to learn how you can solve their problem with your solar solutions. We encourage all of our leads that the appointments should be booked as soon as possible.
Generally, the meetings are at home because it's a more comfortable environment. Our data shows that more deals are closed at home vs in their office or on the run. This process also helps us weed out unqualified leads and improve efficiency.
Homeowner Data
To stay ahead of the competition in an ever-changing industry, we recognize that quality homeowner data is the best way to get reliable leads. That is why we invest annual budgets into our methods to accumulate authentic and up-to-date homeowner data. We take a keen interest in the development of your business, not only the industry. We're here to build long-term relationships and development for your business.
Why Choose Us for Exclusive Solar Leads:
Affordable
There is cheap and then there is affordable, it's important not to confuse the two. We give all of our clients the best possible leads in the industry at competitive price points. Our services are not cheap because cheap leads to not build business, quality leads do. Our company is built on the basis on solid, qualified leads at the best price points possible.
The common practice these days is for other companies to sell the same leads to different clients at high prices. A sure-fire way to failure. Fortunately, you have the assurance and guarantee when you hire Solar Exclusive, you are receiving the best value for the price. You need targeted leads to grow your business and you need leads who have a keen interest in your specific services. If you are sold broad or irrelevant leads, this will not help you either.
Concentration on Solar Marketing
There is a possibility that marketing companies can get distracted when they operate in multiple industries. Solar Exclusive is a marketing agency that deals with the solar industry only. This helps us to concentrate our resources and devote adequate time to cater to solar companies. We have become experts in the field after spending enough time and resources gathering specific data. We know what works and what doesn't. This helps us to determine the quality of our leads better than any other company and it helps your bottom line.
Leads Just for You
All of the leads we provide are exclusive to you. These leads have been carefully vetted and selected to fit your business goals, preferences, products and serves. The great part about getting unique leads is that you don't have to reduce your prices to compete with other companies for these same leads. 
Pre-Set Appointments
To make it easier to close deals with the leads provided for you, we have a booking system that simplifies the setting of appointments with potential customers based on your calendar. This is an added service that helps close deals quicker and makes the process more efficient.
We pride ourselves on doing right by the clients. This is one of the key ingredients that makes them come back. Our process ensures that you do not bother on lead generation once you let us handle it, thereby allowing you to focus on your core competencies.
We operate on the ideology that it is better to have just 75 clients who trust us because we provide exclusive solar leads to them than be like any other solar leads company with 500 disappointed clients that have to struggle for the same leads. You can check out our website for testimonials from other satisfied customers. What are you waiting for? If you want to expand your solar business and grow your reach, contact us today. We would love to hear from you.
THE BACKBONE OF SOLAR BUSINESS
Today, solar leads and appointments are the backbone of any solar business looking to grow and scale their company. We understand this, hence, we came up with improved techniques to help you energize your pipeline and get more solar customers to generate more revenue.We can agree that social media channels are vital when it comes to getting more customers, but running a new business and performing day-to-day operations are stressful enough. With all of the competition out there, every decision you make is important. This means you want to invest in something more precise and proven. That is what we offer at Solar Exclusive.
Here are a few specialties you can note about our valued service:
Our agency runs hundreds of campaigns every year. Each campaign deals with generating unique case studies to gather enough data on the industry. Through our research, you can obtain interested solar prospects with purchase intent without having to waste precious time studying various techniques on how to do this yourself. We've collected more data than you can imagine over the years which helps us get you results faster and deliver a quick ROI.
We invest annual budgets into research and development in the industry and its customers. These investments will also help gather the most accurate homeowner data. Through this data, we equally have an advantage when targeting leads and finding quality prospects. How can this help you? Well, you get the perfect opportunity to boost your solar deals tremendously!
Affordability is one of the many perks you enjoy when you work with us. Through our exclusive solar leads and pre-set appointments, energy consultants can reach 5, 10, or 50 more solar deals within a month. We are Solar Exclusive and this is what we can offer.
Contact Us For Leads Today!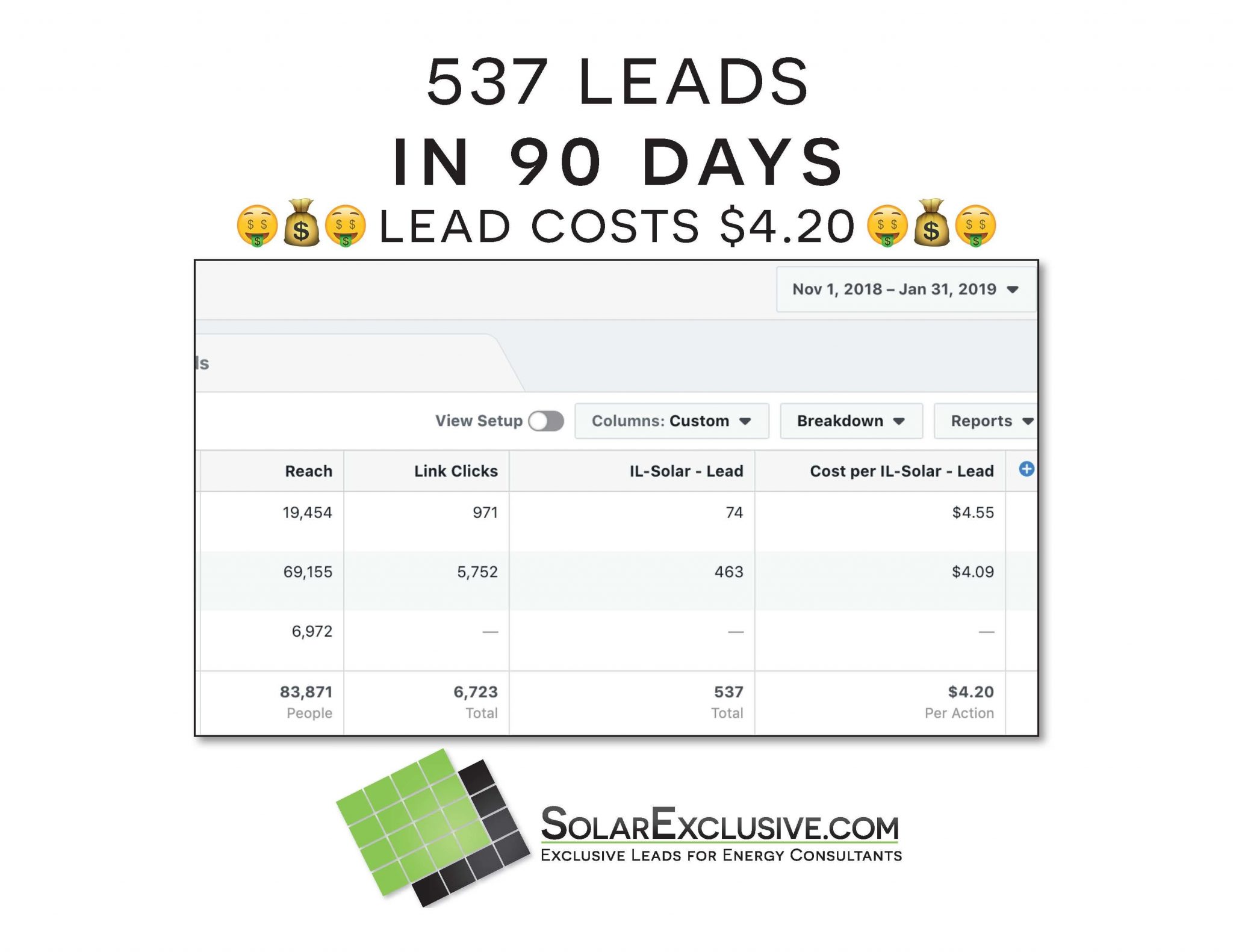 Don't Let Leads Pass You By!
YOU ARE FIRST
Our clients' needs always come first before anything else. We've built our reputation on quality leads, fresh delivery, and long-lasting relationships. The leads we provide are yours, and yours alone. What separates us from the rest is that our leads are not shared nor are they old. A majority of lead providers today will sell leads to both you and your competitors. These are fly-by-night companies who rely on volume and quick turnarounds.
We focus on customer growth and long-term relationships. Our main aim is to reach and provide exclusive leads for you while still building a long-lasting relationship. At the end of the day, we want to deliver leads tailored to your business and help you scale at a comfortable pace that will fit your lifestyle.
Contact Us Today and Get Leads Now!
GET LEADS
GET LEADS FLOWING.
CONTACT US TODAY.